Canadian Composer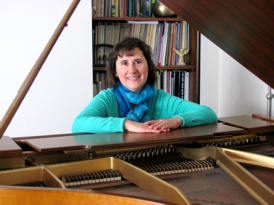 Maryanne Rumancik (1960 – ) ARCT (piano pedagogy), BA in Music Composition, Bachelor of Music Therapy, as well as private in studies composition and orchestration for two years.
Maryanne lives in Lorette, MB where she has had an active piano teaching studio since 1989; teaching all ages and styles of music. In addition she has been active as an accompanist, adjudicator (piano and composition), workshop clinician and part-time church choir director
As an accredited music therapist, Maryanne utilizes a variety of musical styles in her work with people across the life span. Through her private practice, based in Lorette, she provides music therapy services to south-eastern Manitoba and Winnipeg.
Maryanne has written music for piano teaching, along with choral, vocal and chamber music. Her music has received performances across Canada and internationally by learners and professionals. Several of her piano pieces have been published in the Canadian National Conservatory's Northern Lights series. A variety of her other works are available from Prairie Sky Music Publishing. These pieces are suitable for recitals, festivals and examinations.
In her spare time, Maryanne enjoys relaxing with her family and cat, reading, gardening, iconography and biking. Recently she has been learning how to do watercolour painting.